content:

Voice Dialogue in Europa
Etwas Geschichte des Voice Dialogue in Europa (Auf Englisch)
By Robert Stamboliev
Dear friends
Voice Dialogue Europe platform
For all lovers of Voice Dialogue in Europe it is wonderful news that the Voice Dialogue Europe platform is revamped by Myriam Ladeuze and Martin de Waziers. Seeing what Myriam and Martin have accomplished as vice-president and president of the Association Francophone de Dialogue Interieur/Voice Dialogue (AFDialogue) it can only get better.
The new platform will enable Voice Dialogue and the Psychology of Selves to get more airplay. This is good for potential clients and students, and for the exchange between Voice Dialogue teachers and facilitators in Europe.
Voice Dialogue, a tool for transformation
Voice Dialogue is clearly 'a tool for transformation' and has proven its value throughout the last 50 years! In 1972 Hal and Sidra Stone started to develop the method and have worked with it into their old age. They have inspired many people all over the planet.
In May 2020 Hal passed over. Sidra is still giving individual sessions.
Voice Dialogue is very well applicable in personal coaching, individual and relationship therapy, psychiatry, career coaching, business coaching, organizational development, creative development ánd it is also good to see that it is still "work in progress".
Voice Dialogue is used in mental health care, for burn-out prevention, in combination with various personality models, Tarot reading, working with politics and world issues, even cooking… The work also continues to inspire a growing number of writers, artists, singer/songwriters, actors, theatre and movie directors…
Development of Voice Dialogue in Europe
Martin asked me to write about the development of Voice Dialogue in Europe from day one, a little bit of history... In looking back I feel quite happy that I was instrumental in the introduction and further spreading of the work in various countries.
In 1982 Hal and Sidra gave their first European workshop in Amsterdam with only 6 participants and a horsehead (Dutch expression). This was a life changing event for me as well as for Jerien Koolbergen, an experienced psychotherapist who later became a colleague and dear friend. We were immediately taken by the work, both for our personal process and as an effective tool in therapy. We decided to organize the Voice Dialogue work in The Netherlands. Jerien passed away in 2015 and I am still active.
In 1983 I moved to Los Angeles where I started studying Voice Dialogue and Transformational Psychology, with Hal Stone as my main teacher. This was a so-called tutorial study program with International College.
During this period I gathered all the information in the weekly groups that I attended. By summer 1984 both Hal and I felt that I had learned enough to start working on my own and I moved back to Amsterdam. Here I started an individual practice and also started teaching series of weekly groups. At some point people wanted a follow up and I developed longer and more intensive training programs. From Amsterdam the work spread to other countries.
In 1985 the first year trainings were given in the Netherlands and Belgium. These year trainings took shape organically, and became more and more complete. Complete in the sense that Voice Dialogue was taught as a part of Transformational Psychology, with its roots in Jungian psychology and working with energy.
In 1988 this resulted in the founding of the Institute for Transformational Psychology (ITP) with a 3-year accredited program. Jerien Koolbergen, Maria Daniels, Marian van Riemsdijk, Margreet Renkers were teaching there as well. Next to ITP there are now other well established training centres in the Netherlands and Belgium, run by second and third generation students, with emphasis on the application of Voice Dialogue in therapy and coaching. The ITP curriculum was exported to other countries.
European trainings
ITP was the organizer of Hal and Sidra's work in Europe, from 1983 until their last program in 2007. These trainings took place in The Netherlands, France, Switzerland and once in Italy (with Innerteam). The work started to spread throughout Europe. Next to The Netherlands and Belgium the work is now well known in France and Italy and beginning to blossom in other countries.
In 1991 Yves Michel from publishing house Souffle d'Or in France came to a summer program with Hal and Sidra in Holland. He was quite impressed with the work and translated the Voice Dialogue books in French and invited me to teach in France from 1992. For six years I then worked regularly in France, teaching two 3-year programs. Students of these groups have now established training centres in various parts of the country, with each their own style.
Franca Errani from Italy who studied with me in The Netherlands, Switzerland and France started a training institute in Italy where an academic program 'Master in Voice Dialogue oriented counseling' was established through the University of Siena. Franca retired and the Voice Dialogue work is carried forward by her students…
Next to France and Italy comprehensive trainings were given in Norway, Russia and Turkey, as well programs in Belgium, Spain, Portugal, Austria, Denmark, Sweden, England, Germany, Switzerland, Greece, Bulgaria.
The international Voice Dialogue Summer Academy has become a tradition up to this day. It is very satisfying to see that the work is growing in Europe. Each training institute has its own signature and teaches in its own unique way. This is very fitting with the non-dogmatic approach of Voice Dialogue and the Psychology of Selves.
Principles, not fixed rules.
The spirit of the Voice Dialogue work is quite alive and we like to keep it alive! That's why we refer to the underlying principles of the Psychology of Selves and Transformational Psychology. In Transformational Psychology a key element is energy.
Voice Dialogue in itself is a free 'open source' product, it is not controlled. That is great but can also cause problems for potential students to choose a teacher or facilitator.
That is the reason that we started a think tank in Europe about this question with a few European centres in 2005 (Osiris, Innerteam, ITP) and later extended this with a few senior American teachers in 2008 (Miriam Dyak, Jaime ona Pangaia, Tamar Stone). This think tank resulted in the International Voice Dialogue Agreement (IVDA) in 2009.
The importance of this document cannot be overestimated. Its goal is to empower the client or student. Much as in the old tradition of Tai Chi Ch'uan there are the TCC Classics, a collection of texts that describe the principles of the work. Therefore I am glad that the European Voice Dialogue network makes the IVDA document accessible to a larger audience.
I am pleased that the ethical guidelines of the IVDA are also included on the European platform, as well as the requirement that facilitators on the platform have to mention their background. This will help potential clients and students to choose wisely with whom to work.
Publications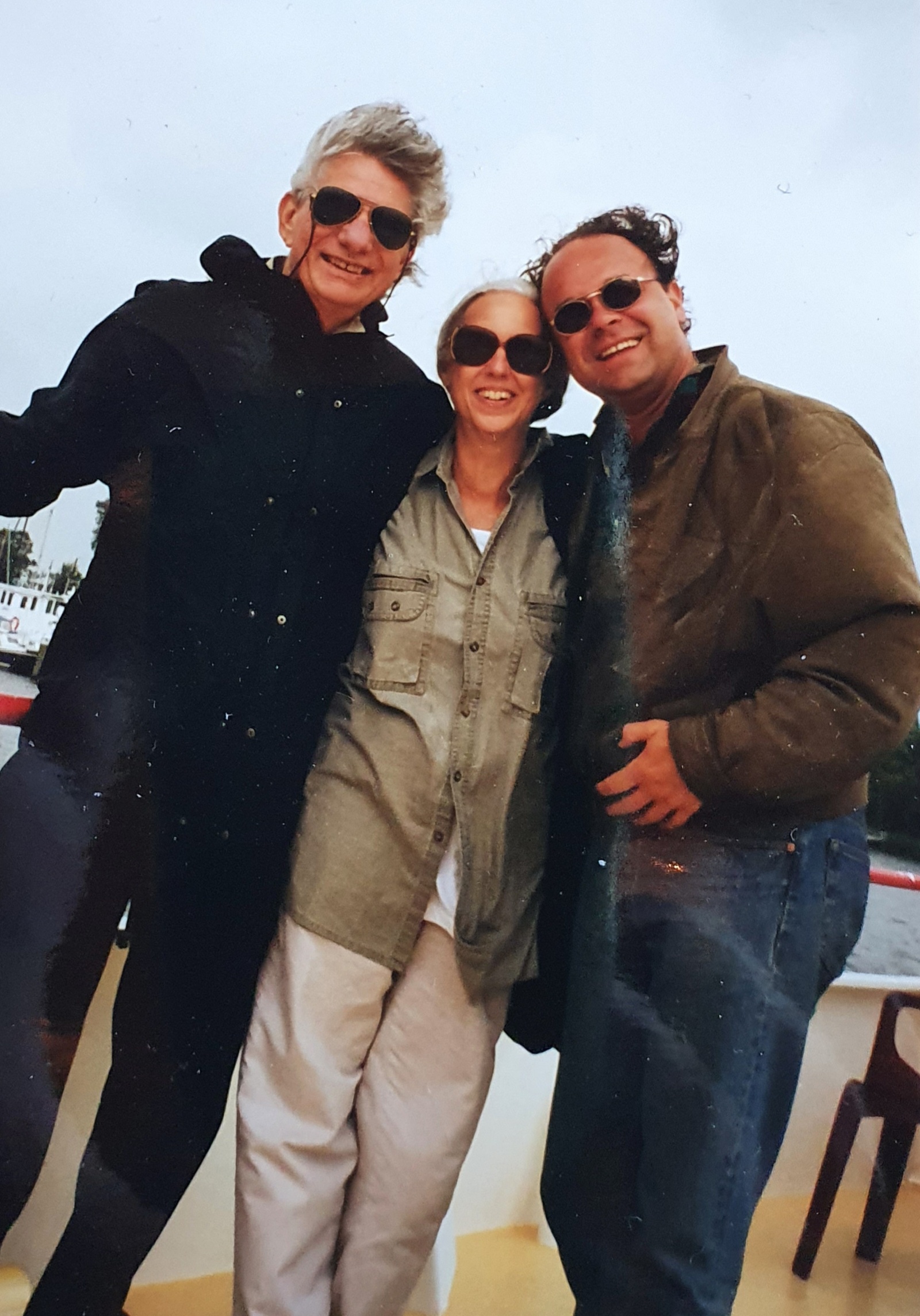 Hal and Sidra wrote their first book Embracing Our Selves in 1985, followed by many others, that were all translated in many languages. Alongside the writing they also produced audio tapes, video's and CD's. I wrote the book The Energetics of Voice Dialogue in 1988.
Wonderful to see the many Voice Dialogue books by various authors that have been written since, in different languages, each highlighting another aspect of the work.
The European platform plays an important role in making these publications available for all.
'Our planet needs consciousness'
I am convinced that Voice Dialogue, the Psychology of Selves and Transformational Psychology can serve humanity in the decades to come. Mankind is dealing with huge conflicts, polarities and vulnerabilities. As Hal used to say: Our planet needs consciousness! The Voice Dialogue work deserves a much larger audience and the new European platform can be instrumental in this process.
I wish everyone involved a wonderful time on this platform!
Robert Stamboliev
MA Psychology
Owner and Director of the ITP
Institute for Transformational Psychology
Bergen, Netherlands February 8, 2022
Hal and Sidra's recommendation
Robert Stamboliev is a teacher of teachers and we wish to honor him appropriately. Robert, perhaps more than anyone else, has been responsible for introducing Voice Dialogue and the Psychology of Selves in Europe. His trainings have produced – in additional to excellent facilitators - an amazing variety of brilliant teachers and creative innovators. We met Robert in 1982 at the first presentation of our work in Amsterdam. He then came to the United States to participate in Hal's program for a Master Degree through International University. He trained intensively at that time and, since then, has continued both his training and his personal process. And Robert has – over the years – remained true to this practice, to his work, and to the Voice Dialogue community. We salute him!
Hal Stone, Ph.D. and Sidra Stone, Ph.D.